Band dari jepang yg berisikan 4 cewek cantik..hwehehehehe
ini dia !!!
HARUNA ONO ON VOCALIST & GUITAR
MAMI SAZAZAKI ON GUITAR
TOMOMI OGAWA ON BASS
RINA SUZUKI ON DRUM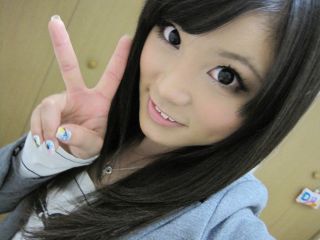 gambar fav saiiyyaa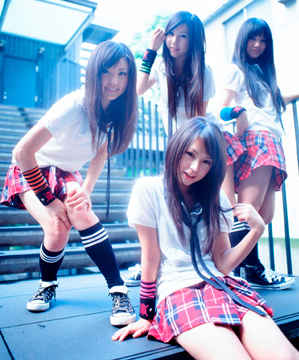 MEREKA TERLIHAT KAWAI <3
DAN FAVE SAYA ADALAH RINA YG KAWAI SEKALI
biodata menyusul
EDIT
SCANDAL DISCOGRAPHY
(1st SINGLE) SPACE RANGE
Tracklist:
1. SPACE RANGE (スペースレンジャー)
2008.03.03 Released!
(SINGLE) Koi Moyou
Tracklist :
1. Koi Moyou (恋模様)
2008.04.04 Released!
(SINGLE) KAGEROU
Tracklist:
1. KAGEROU (カゲロウ)
2008.05.05 Released!
(Indies Mini-album) YAH! YAH! YAH! HELLO SCANDAL
Tracklist:
1. Love Fruit (恋の果実)
2. Space Ranger (スペースレンジャー)
3. Koi Moyou (恋模様)
4. Kagerou (カゲロウ)
2008.08.08 Released!
DEBUT
(1st SINGLE) DOLL
Tracklist:
1. DOLL
2. S.L.Magic
3. DOLL (Instrumental)
2008.10.22 Realised!
(2nd SINGLE) SAKURA Goodbye
Tracklist:
1. SAKURA Goodbye (SAKURA グッバイ)
2. TOKYO
3. SAKURA グッバイ (Instrumental)
2009.3.4 Realised!
(3rd SINGLE) SHOUJO S
Tracklist :
1. Shoujo S
2. Natsuneiro
3. Future
4. SO EASY
5. Shoujo S (Instrumental)
2009.6.17 Realised!
SCANDAL BIOGRAPHY
Scandal (stylized SCANDAL) is a Japanese pop group. Proclaiming
themselves as "The Most Powerful Japanese Girlie Pop Rock", they are
composed of four high school girls from Osaka, Japan: Haruna Ono,
Tomomi Ogawa, Mami Sasazaki, and Rina Suzuki. Scandal is very
energetic, mostly due to the fact that Ono, the eldest and leader of
the band, shares lead vocals with the other three members, in order to
not have a focus on one girl in particular and to give each time in the
limelight.
Aug.2006, a brand new Rock band "SCANDAL" as formed
with bright and talented four high school girls in Osaka, Japan. Every
weekend since, SCANDAL has been very actively performing at SHIROTEN, a
sacret place for street live performance at Osaka Castle Park. Time
goes and SCANDAL starts to get offers from clubs and music halls around
Osaka and Kyoto.
Eventually, more than one hundred fans
constantly appear for every single live performance of SCANDAL on
street, and positive rumors and the band recognition spread to Nation
wide that people in Tokyo start to talk about SCANDAL. On Aug.2007,
SCANDAL grabbed the opportunity to participate the special event at
Shibuya Club Asia, a most recognized and respected club with the long
history in Shibuya, a center of new cultures in Japan. During the
SCANDAL's first trip to Tokyo, they were invited to the radio show as
guest artists and also some University Fest. invited SCANDAL for the
stage. As an Indies band with unreleased songs, SCANDAL unusually and
rapidly penetrate into not only the music industry but into the local
community as well.
In the upcoming year 2008, SCANDAL will dive
into the world of Japanimation and each member turns into an animated
character. And the animated SCANDAL will drive the series of short
animation movie on the internet. And more to come, on March 3rd, the
girls day, the most awaited first original sound source of SCANDAL will
officially be released. Right after the release, SCANDAL will depart
for "Japan Nite US tour 2008″, and the US biggest Convention event,
"Sakura-Con 2008″ from March 16 to March 30. The second CD on April 4th
and the third on May 5th are now already schedule to be released in
three consecutive months. And the SCANDAL's domestic Summer tour is now
planed to be in action.
Japanese girlie Pop Rock band of the next generation is about to take off from Osaka to the World.
Band Member
Vocal & Guitar : HARUNA
Bass : TOMOMI
Guitar : MAMI
Drums : RINA
Official Link
www.scandal-4.com
http://www.sonymusic.co.jp/Music/Info/scandal/main.html
http://www.sonymusic.co.jp/Music/Info/scandal/
Last edited by adminbodoh on Fri Feb 05, 2010 6:49 am; edited 1 time in total
WAH SUKA SCANDAL YA !!?!?!
ini lagu fave saya :
-beuteen
-yume miru tsubasa
-shoujo s
-scandal baby
-shunkan sentimental (singgle terbarunya yg dijadiin ost. anime .fullmetal alchemist )
-DOLL
-sakura goodbye
-daydream.

whehehe walaupun se-imut apapun sih rina saya tetap vote untuk MAMI-CHAN !!!!! :cheers: :cheers: :cheers:

audy-kaizuru

wakil Admin




Posts

: 45


Points

: 68


Join date

: 2010-01-16


Age

: 23


Location

: fukuoka, japan



wah!!! kyk udah maniak aja kamu hehehe..aku aja baru dikit
wehehe...itumah belom seberapa..temen saya aja udah komplit single2nya plus udah punya lagu satu album . ckckckc

audy-kaizuru

wakil Admin




Posts

: 45


Points

: 68


Join date

: 2010-01-16


Age

: 23


Location

: fukuoka, japan





Similar topics
---
Permissions in this forum:
You
cannot
reply to topics in this forum